by
Samantha
on Tuesday, November 1st, 2011 |
Comments Off

on Internet Marketing Basics
Internet marketing, also referred to as online or digital marketing, is a means to promote your products or services over the World Wide Web. It is important to know that simply registering a domain and starting a website on the internet does not mean instant traffic to your site. Establishing a sound marketing campaign is crucial in developing a thriving business on the internet where competition is high.
What are the benefits of a sound internet-marketing plan? Establishing a domain for your business is only one-step in getting more interest drawn to your company. With the ability to access the web around the world, proper marketing of your site will allow you to obtain potential clientele from around the globe as well as locals.
By incorporating internet marketing into your business plan, it is not confined to the limitations of its physical location.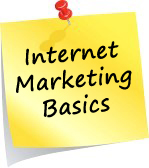 By using a number of internet marketing tools, such as SEO (search engine optimization) and SEM (search engine marketing), the visibility of your business website will improve. These tools help draw attention to your site through things such as keywords.
When a potential customer uses their search engine to find companies via the use of key terms, it could bring up your website resulting in more hits and potential business. SEM's are a paid option, which promotes site visibility through advertising or pay-per-click items. Social media marketing is another platform that is used to assist in gaining site visibility. Through using a sound internet marketing plan the bounds are endless for any business.