by
Samantha
on Tuesday, December 13th, 2011 |
Comments Off

on What Is Viral Marketing?
Viral marketing is a very smart and amazing type of marketing. Called by many different names like viral advertising, or buzzwords, it is a special type of marketing in which the marketer uses the pre-existing social networks which are available on the internet, so that they can increase the brand awareness of a product or service among the people. Viral Marketing can also be used for increasing the product sales through self replicating viral processes on the networks, just like how a virus spreads in the computer.
Viral marketing can be delivered in many different ways like the word of mouth or it can be enhanced by the effects of the networks on the internet. Viral marketing can take many different forms such as the use of video clips, or advergames (games that are created for advertising objectives), interactive flash games, brandable software, or through eBooks, images or also text messages.
The ultimate goal of the marketers that follow this type of marketing is to create successful programs of viral marketing. This is further done by creating messages that the users who have a high social networking potential (SNP) find appealing. These viral messages created should have high probability as they will be presented and spread by these individuals and their competitors in their various communications, all this in a very short span of time.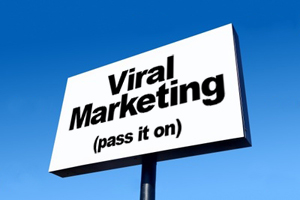 Viral marketers use various social networking websites to complete their goals. The main advantage of Viral Marketing is that your message is sent to various people and so you can get genuine visitors to your websites. A major source of this kind of Marketing is to tweet your message. Interested people will then re-tweet on your message and this is how your message is conveyed to a Hugh amount of people at the same time.
Hence, Viral Marketing is gaining fame daily and is increasing like a storm.